Emmanuel Nwakozor, an Anambra based "married pastor", has ben apprehended by the State Police for allegedly raping a 19 year old girl in a forest, taking nude photos of her and trying to initiate her into his car-snatching business.
Reports going round is that he met his waterloo after forcefully having sexual intercourse with a 19 year old and then, tried to initiate her into his car-snatching business. He ran out of luck after being tracked by a man, Ejikeme Benedict Ifeanyịchukwu, who the 19 year old had confided in.
Ejikeme Benedict Ifeanyịchukwu tracked him down and then reported the situation to the Police, and that was how he was apprehended at night and whisked to the Police Station.
Ejikeme Benedict Ifeanyịchukwu recently posted some evodence to show he truly is guilty of rape.
On Facebook, he posted;
"For the records, 3 ladies confided in me today that día wia victims of rape from this same man sometime in the past but wia afraid o speak up. Tho one made entry in police station in oko last year. I made her come today with evidence to Neni Police station. Dah man is a serial Rapist!"
"Evidences abound
Just in: we took the police to the scene crime inside a bush God knows I can't enter at night even for a million dollars ( I go dey alive chop the money na) and we got a more concrete evidence.
In the second picture, u wee see the cloth he used in cleaning her private part and the razor he used in cutting her hand.
U see for this case, I die here oo. For people saying we don't have evidence, dey dunno I have a Ph.D in investigation:"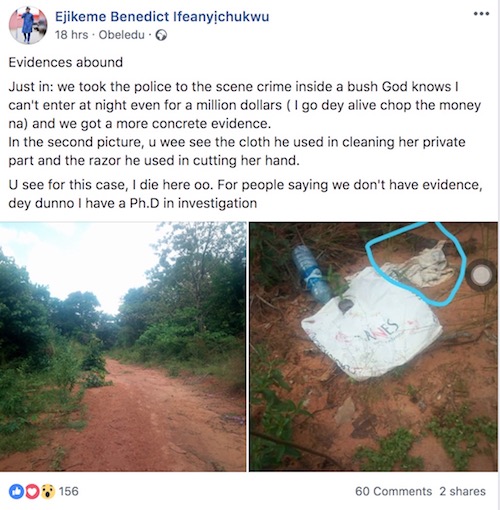 "He raped a girl and I was notified. I swore with my last blood that I must track him. Since Friday, I left everything I was doing and started tracking him. Luckily with the help of Neni divisional policemen, I took him down at Nkpor today
Indeed Police is your friend. When you re raped, speak up but avoid incidence that will promote rape. Queeneth Dominic ibu nnenete Ezenwanyi. Olisa gọzie gị. For my friends calling me all dese while and I was too busy to pick, no vex. Call me tomorrow, I will pick😂😂😂
Emma Umeatuegbu thanks bro for the financial assistance. U re a brother. Nothing fit separate us no even she😂😂😂"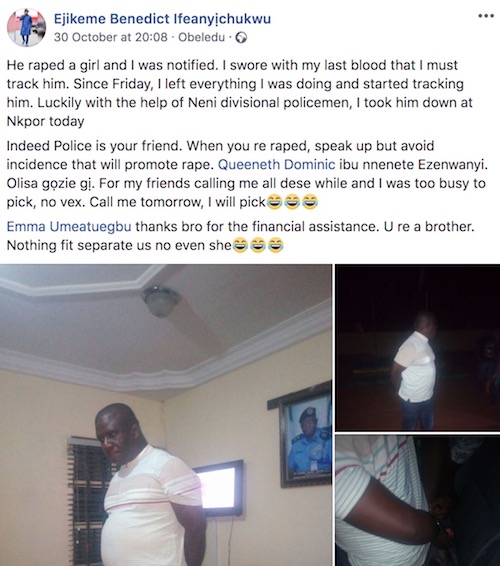 How the pastor was caught: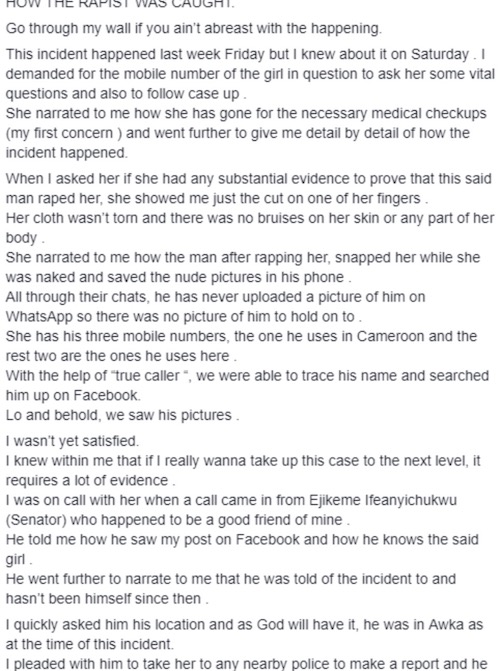 The 19 year old girl's story of how she was raped in forest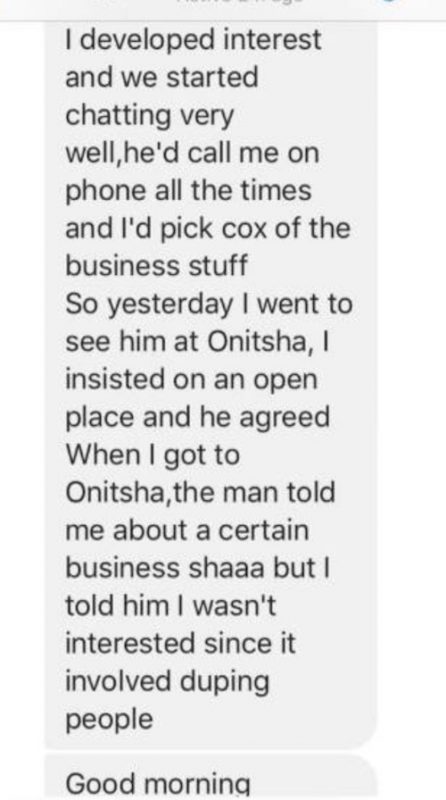 Most Viewed Today