Adesua Etomi is the Nollywood actresse whose beauty is known to glow and stand out regardless of whatever costume she puts on. In some recent BTS photos released online, the beautiful screen goddess was spotted wearing hijab which sits perfectly on her and brings out the rawness of her beauty.
The costume which was deployed during the shooting of a yet to be released movie showed another side to Adesua. In many ways, Adesua embodied a lot of courteousness and reticence in the attires.
This is because rather than the flashy, glamorous attires and bouncy hair she was known for, the gorgeous actress simply wore native Ankara fabrics and donned on large hijabs that covered her ears and rounded her face.
Despite the plainness of the outfits, Adesua Etomi was looking beautiful through and through. Even more, the beautiful wife of popular singer Banky W starred side by side with her husband in the said film which was acted in Bauchi.
But rather than act the part of being the love interest of Banky W, Adesua (who is known as Zainab in the movie) was starred away from her husband and made to be the lover of Ibrahim Suleiman characterised as Sadiq.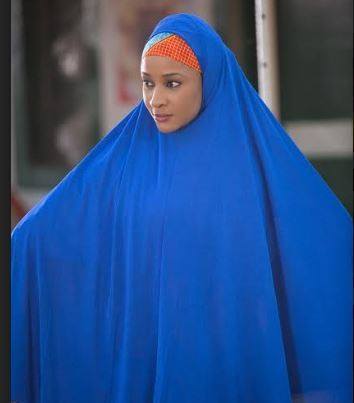 As can be recalled, Ibrahim recently got married to Linda Ejiofor who is also an actress and Adesua's best friend.
The interesting twist to the movie is that Banky W also had a love interest named Maryam. Acting the part of this appreciable lover of the singer and actor is Rahama Sadau.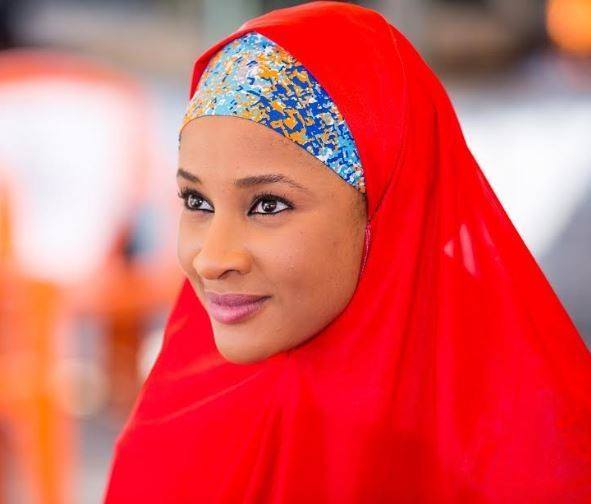 Given that Adesua stood out beautifully in spite of the Muslim hijab she donned on, many have taken to commenting on her rare beauty and appreciating her good looks.
A Facebook user named Daniel Sodiq spared no words in praising Adesua Etomi for perfectly rocking the hijab and sweeping many people off their feet even in such outfits.