It seems like Ifu really got upset with DeeOne's outburst and replies to her in the comment section of his Instagram video as she has gone further and personally taken it upon herself to warn him on her IG page.
Hours back, the BBNaija star cum business woman, shared a warning online, telling DeeOne to keep off her business and never mention her name on his lips.
This is coming after they both exchanged words with themselves, and subtle jabs were thrown to both corners
Did you miss: You this girl that waits for "Sugar Daddy", I'm not like you, I work for my money – DeeOne blasts Ifu Ennada
In her own words;
Dear @comediandeeone as I write this I'm short of words. You took a clear subtle joke and turned it into a Disaster Trigger. I thought we were supposed to be friends off social media…
I have called you on the phone to know the precise cause of your afflictions, but you've refused to take any of my calls or reply your messages. —
Is this because I haven't sent the video you asked me to record for you? Are you really mad at me for this or is there something I'm missing here? —
—
Now you've resorted to more name callings on your page. The last thing I want to do is get in the mud with a pig, so I'm going to say this and not revisit this issue –
—
— "Dee One, keep my name out of your mouth and sentences. You might have time for frivolities, but I have a business to run and a brand to build. You're clearly a comedian whose a failure at recognising the simplest joke and I can't help deliver you from this burden."
—
—
PS: I used my @beautifuennada Leave in Conditioner and Super Hair Growth Oil to make this twist in the image. Check my wall for the video.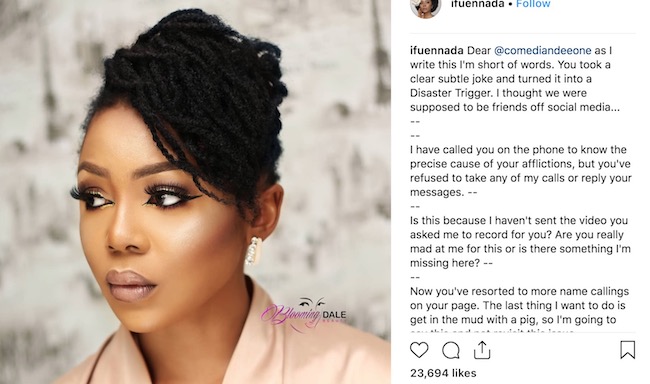 Top 3 Most Viewed Today