A dejected Ambode has called an emergency press conference amidst pressure for him to step down, PremiumTimes report. The briefing started by 2:00pm, at the Government House Press Centre, officials confirm. 
"Governor Akinwunmi Ambode address world press conference," Steve Ayorinde, Mr Ambode's commissioner for tourism and culture, said on Twitter, without elaborating.
The briefing comes amidst immense pressure on the governor to step down in the contest for the All Progressives Congress' governorship ticket in Lagos. Already, a potential successor has surfaced in the person of Jide Sanwo-Olu, who rose to prominence after being endorsed by all the state's 57 local government chairpersons about two weeks ago.
PREMIUM TIMES learnt that Mr Ambode has also been asked to step down by top party stalwarts in the state, and he was warned against participating in tomorrow's primaries to avoid being humiliated by Mr Sanwo-Olu, who is now widely expected to clinch the ticket.
Mr Ambode has resisted the pressure for the most part, and he was set to have issued a statement on Saturday insisting that it would be unfair to deprive him the chance of taking part in the primaries, which the party suddenly postponed from Sunday to Monday.
Have you read: BREAKING: Ambode finally dumped, Sanwo-Olu endorsed for Lagos 2019
The rescheduling was aimed at giving Mr Ambode another 24-hour window to step down for Mr Sanwo-Olu, multiple sources in Lagos said. It was not immediately clear whether today's emergency presser would put the uncertainties to rest.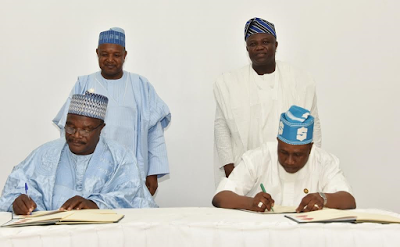 State House reporters who spoke with PREMIUM TIMES said they have been kept entirely in the dark about what the briefing would be about.
"They have not told us what it would be about," said Tope Musowo, who monitors Lagos beat for Abuja-based Blueprint Newspapers. "Let us say it is either he wants to step down or he wants to move to another party."
"Although it is only about an hour left to go, we are working to know what the briefing would about before the governor walks in," the reporter added.
Mr Ayorinde and Habib Haruna, the governor's press secretary, did not return PREMIUM TIMES requests for comments about the potential crux of the press conference.
One of the most-rated governors in the class of 2015, Mr Ambode's political future suddenly became bleak when Mr Sanwo-Olu, a former commissioner and strong ally of Bola Tinubu, picked the APC nomination form earlier this month, shooting him into the limelight.
A series of negotiations ensued, focusing largely on getting Mr Ambode to step down, but the outcome was unacceptable to both parties, leaving a stalemate.
Amongst Mr Ambode's choices is to defect to another political party, banking on his status as a popular incumbent to muster votes among a generally educated electorate. But political insiders in Lagos said this might be politically too risky an option to take. If he changes party, he risks being removed from office by APC state lawmakers, who constitute an overwhelming majority.
-PremiumTimes