30 Days in Atlanta – 2014 (alongside RMD and so on)
Fortunes – 1993 (alongside Regina Askia, Liz Benson and so on).
Iru Oka (a Yoruba movie) – 2011 (alongside Rachel Onega, Adebayo Salami and so on).
76 the movie – 2016 (Alongside Rita Dominic)
Family & Romance
The star actor is happily married to his beautiful sweetheart, Amelia. Their marriage is blessed with 3 children; Desire, Quincy and Camil (a girl and 2 boys).
Ramsey Nouah and Amelia Philips got married in 2002 and their marriage has been one of the least-publicized; hence, they've been able to keep their marriage travails off the Nigeria media-scape.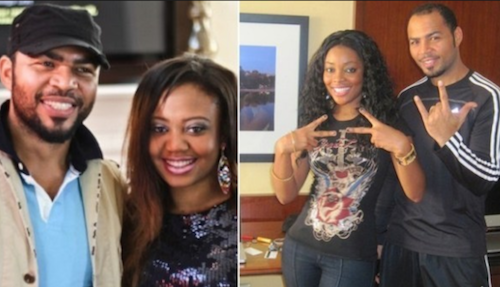 Net Worth
Ramsey Tokunbo Nouah has been living a fairly good life right from birth. At the age of 8, he was endorsed and made the 'face' (child ambassador) of popular margarine brand, Blueband. In addition, he's had a highly successful 25-year career in the Nollywood. Up till today, he is one of the most featured actors in top Nollywood movies.
With respect to Ramsey Nouah's acting and ambassadorial earnings over the course of his 25-year career, he is estimated to be worth in the region of 1.5billion Naira.
And there we have it, the journey for today's 'A Quick Look' is over, until next time, do have a great day…. Oh, before you leave why don't you:
READ: A female fan once kept her pant in my pocket – Ramsey Nouah