Celebrities' love lives are always under scrutiny, so fans often witness a relationship's development as well as its demise. It's so easy to get invested when we see two people fall in love on the set of a popular movie or TV show.
Being part of a Hollywood couple is a bit of a quandary, really. On one hand, they appear to be so romantic and magical – living the lives we all wish we could. They vacation on tropical islands, attend glamorous events, and make big money for working on popular films or performing on stage.
But, on the other hand, any type of long-term relationship happiness often eludes them, and it seems that is the price to pay for Hollywood success. Still, it doesn't keep fans from hoping that things can work out for our favorite celebrities.
On this list, we visit the romances of 10 couples that are cruel reminders that most things in Hollywood don't last.
10

Zac Efron and Vanessa Hudgens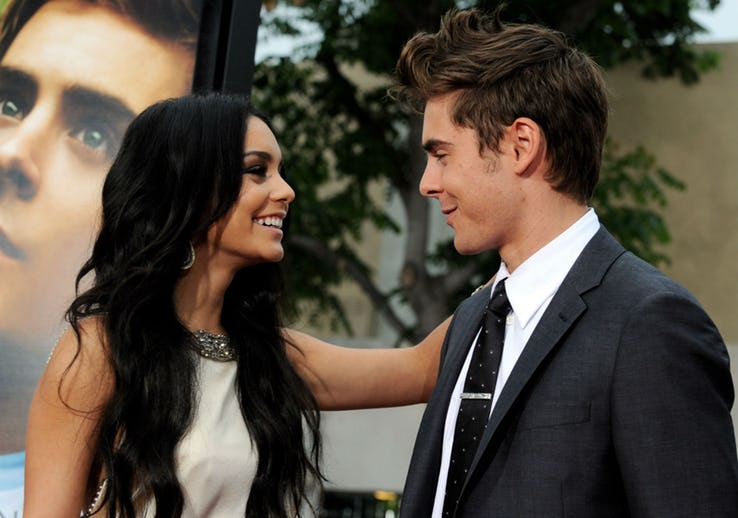 Disney kids, Zac Efron and Vanessa Hudgens, were the cutest couple when they started dating after meeting on the set of High School Musical back in 2005. The pair dated for five years, but during that time, it was difficult for both of them because they wanted to break away from their teen images.
Hudgens often said that it was a challenge dating Efron because he was such a big heartthrob, and he constantly got female attention.
"I went through a phase when I was really mean because I was so fed up. Girls were running after him, and I was giving them death stares," she told the New York Times. "I realized that's not what that's about. Spread the love, be a good person, they support you, be nice."
For any fan that have hopes the two may get back together someday, Hudgens says that it is not meant to be, and they no longer keep in touch.
Efron is currently "on and off" with his Baywatch co-star, Alexandra Daddario, while Hudgens has been dating Zoey 101 star, Austin Butler, since 2011.
9

Ben Affleck and Jennifer Garner
If there was one Hollywood couple who fans thought could make it work, it was Ben Affleck and Jennifer Garner, or Bennifer 2.0. They met on the set of Daredevil in 2003 after he had called off his two-year engagement to Jennifer Lopez, and she had just ended her three-year marriage to Scandal star, Scott Foley.
Affleck and Garner eventually transitioned from co-stars to a couple and married in June 2005, while she was rocking a baby bump.
The couple had three kids – Violet, Seraphina, and Samuel – but eight years into their marriage, things started to sour. Rumors swirled that Affleck was unfaithful with the nanny, but Garner says that was not the reason she decided to end the marriage. They announced their split just one day after their tenth anniversary in June 2015.
The couple went through a two-year separation before filing for divorce in 2017, but they continue to co-parent their children and remain on good terms.
Garner says she didn't marry a "big fat movie star," but instead, she married "him," and she would "go back and remake that decision."
Affleck is now in a relationship with SNL producer, Lindsay Shookus, while Garner is focusing on her children.