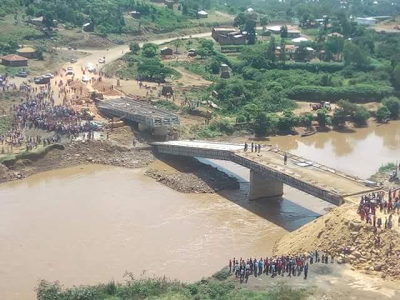 A section of a bridge that is being constructed at a cost of 1.2 billion shillings in Budalang'i constituency in the county of Busia, Kenya,  has collapsed. 
Sigiri bridge which is being constructed by a Chinese company was expected to link several rural areas, markets, schools and hospitals within the constituency.
The bridge, one of the Jubilee Government flagship projects has collapsed just two weeks after President Uhuru Kenyatta inspected it.
While conducting the inspection, President Kenyatta noted that the bridge will significantly reduce the number of deaths in the area. It is not yet clear what caused the bridge to collapse.
Sigiri Bridge was designed to enable people cross River Nzoia where several people have died in the past while attempting to get across. Before the collapse, the bridge was 90 per cent complete and was expected to be operational from next month.
Infrastructure Principal Secretary Engineer John Mosonik says Kenya Rural Roads Authority will conduct a detailed Geotechnical and Structural Investigation to establish the cause of the failure.
"The Kenya Rural Roads Authority has dispatched a team of top Engineers to the site to investigate the cause of the failure of the structure and will release more information as it becomes available."
He says construction activities on the site have been suspended until a structural integrity report is ready with investigative authorities looped in to determine if there was any foul play involved.
The collapse has occured less than two weeks after President Uhuru Kenyatta inspected the project.
Two people are still admitted to the hospital while 25 others have been treated and discharged following the incident.
The County Police Commander Elisha Odhiambo told reporters that the 25 were part of the workers on site during the incident.
Odhiambo says preliminary reports indicate that the section that collapsed was just done over the weekend.
He has cautioned locals to keep off the area as the hanging part might also collapse and cause more injuries.
Former Budalang'i MP Raphael Wanjala called for investigations on the workmanship of the project.