How we make N20 million daily selling adulterated Diesel to banks, companies – Oil Bunkering suspects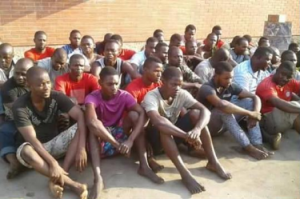 Officers of the Lagos State environmental task force working on a tip off have arrested 42 suspects alleged to be working for a company which sells adulterated diesel to banks and companies in Lagos. The company, Globjin Petroleum Limited, on Plot 8, Elephant Cement Way, Alausa, Ikeja, is reportedly owned by one Alhaji Lukumon Ojena. The suspects were said to have been caught in the act with 2.5 million litres of the adulterated product loaded in jerrycans and six 33,000-litre tankers.
More..
According to the Punch, an employee of the company, Iyiola Adeyinka, confessed that the company makes N20 million daily selling the diesel mixed with kerosene at a cheaper rate to unsuspecting customers.
"We buy diesel and mix it with kerosene. We sell to people, banks and telecommunications companies. I sell up to N4m diesel per day.
"Some major oil firms supply us diesel and kerosene. The owner of the business, Alhaji Lukumon Ojena, pay us N4,000 per day and we work at night," he said.
Another arrested worker, Nonso Mordi, 25,  said the "business" was lucrative, adding that each worker was paid between N3,000 to N4,000 per day.
"We have very good contacts with major oil marketers who supply us diesel and kerosene everyday for mixing and onward sales," he added.
The Head, Public Affairs Unit of the task force, Adebayo Taofiq, said the firm has been sealed off adding that the task force found out that it has operated in the area for seven years.
He said, "Forty-three suspects were nabbed and, with 2.5 million litres of adulterated diesel. The premises was sealed off."
The Chairman of the Lagos State Task Force, SP Olayinka Egbeyemi, said his men acted on save-our-soul petitions submitted to his office.
He confirmed that the adulterated diesel was loaded inside gallons and six different trucks with number plates, FST 615 XR, EPE 672 XC, DKW 05 XA, KTU 750 XN, BDG 717 XA, FKJ 327 XH and XR 95 LSD.
However, one of the owners of the firm, Kehinde Alabi, denied that the diesel was adulterated.
He said, "The task force invaded the storage facility illegally and arrested 43 of our workers and later released 26 of them. It earlier sealed off the premises and reopened it on Saturday as the property belonged to a former Military Governor of Lagos, Raji Rasaki, who also owns an office on the premises.
"Our activities are certified by the Department of Petroleum Resources and the Nigeria Security and Civil Defence Corps. Rather than the task force demanding documents that certified our activities at the site on their arrival on the premises, they impounded our products."
"The products at the depot were bought from NNPC and Oando for sale to companies that could not afford to buy them in large quantity."
Following the scarcity of fuel, oil bunkering has become a major problem in the country. In fact, Police have arrested foreigners making a quick buck in the illegal sales of petroleum products.
CLICK HERE to join our BBM Channel for juicy updates & free giveaways
TRENDING NOW