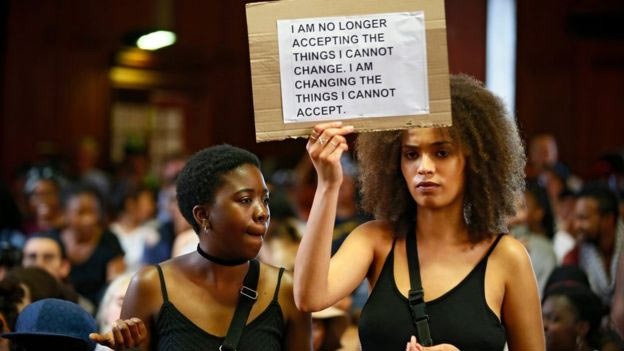 While Nigerian youths are pocketing 2,000 naira each to participate in sponsored protests by corrupt politicians, South African youths are demanding that education should me made free of child throughout the country in the latest widespread protests in the country.
More..
The students and non student demographic of youths, joined by old people and even little children have taken their wave of protests to government and public places, with some structures torched by the raging protesters. A Nike store in Tshwane was also looted during the protests.
Police say more than 500 people have been arrested for non-peaceful behaviour during the free education rallies.
A crowd of protesters were dispersed by grenades of tear gas outside South African President Jacob Zuma's offices, in Pretoria, South Africa October 20,2016.
Meanwhile, a scholar at the Wits Institute for Social and Economic Research in Johannesburg, Professor Achille Mbembe, likened the protesters to Boko Haram.
He said:
"As I write, it is difficult to say when this will stop and who will stop what looks more and more like a Boko Haram style of violence – intimidation, filibustering, name calling, emotional blackmail and, increasingly, physical assault, the destruction of precious public assets and the use of fire as a sacrificial and pseudo-purificatory weapon."
CLICK HERE to join our BBM Channel for faster updates
TOP POSTS YESTERDAY