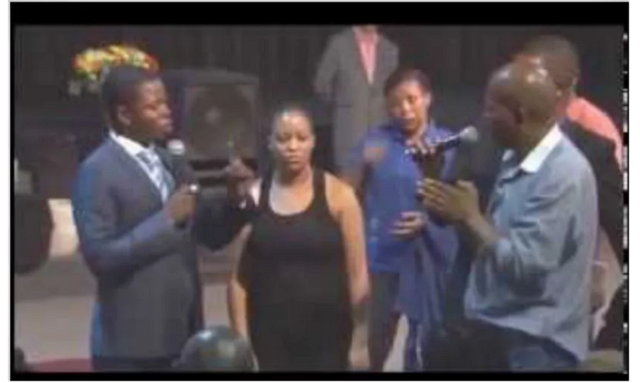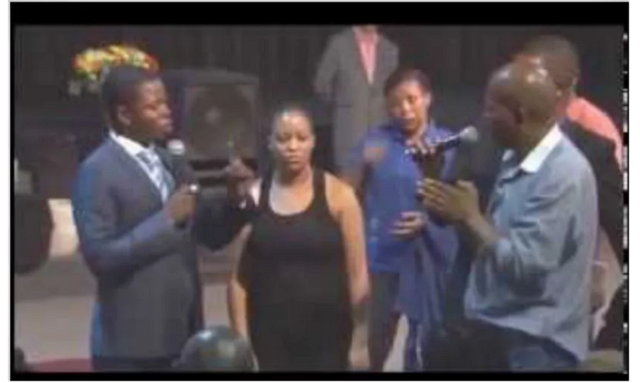 Nigerian pastor who pay women N6500 to lie – A 38-year-old woman, Margareth Hlatshwayo, has come out to reveal how she was allegedly paid by Shepherd Bushiri to lie about miracles in his church, Enlightened Christian Gathering Church (ECG) South Africa.
More..
Margareth who said her conscience has been kicking her for about 3 months said she is terrified that God might punish her. She narrated how she was told she could get a job at a church in Pretoria Showground and would be paid R500 the same day.  Talking about how she cashed out from the controversial Malawian Pastor who is one of the richest in Africa and his ministry, Margareth said:
"I didn't know what kind of job it was. I was told I must act in a holy way and pretend I was healed. I had to testify to living a horrible life before. I knew what I was doing was wrong but I couldn't resist the R500 (approximately N6,500) money promised. This is because I needed the money to feed my 3 children and I couldn't turn down the offer so I did what they told me. And that was how I began. I lied to people and agreed to everything the pastor asked me.
I said I was unemployed but I had recently got a job through God's power after the pastor prayed for me. I have not had a job for the past 4 years. My only job was telling lies recently at church in Pretoria Showground. Later, the church stopped paying me on time because it now has a lot of people lying and giving false testimonies for the prophet and then at the end, there is not enough money to pay all of us. The pastor kept promising he will pay me. Sometimes, he gives me R300 and atimes nothing at all. I am so ashamed."
Some of these people are said to even go to the extent of lying that they were wheelchair bound but after  the pastor prayed for them and they were healed. Another woman who went to the same church confirmed all what Margareth said: "I was paid for 2 weeks but when the pastor stopped paying me, I stopped going. "
When one of the church leaders was interviewed, he didn't knowing Margareth but he denied paying people to testify. "If you want to speak with Shepherd Bushiri for information, you need to make an appointment to come to the office or church service to see how the man of God is changing lives. I don't know you and I am not prepared to talk to you any longer", he said as he dropped the call.
Nawa o!
CLICK HERE to join our BBM Channel for faster updates
TOP POSTS YESTERDAY