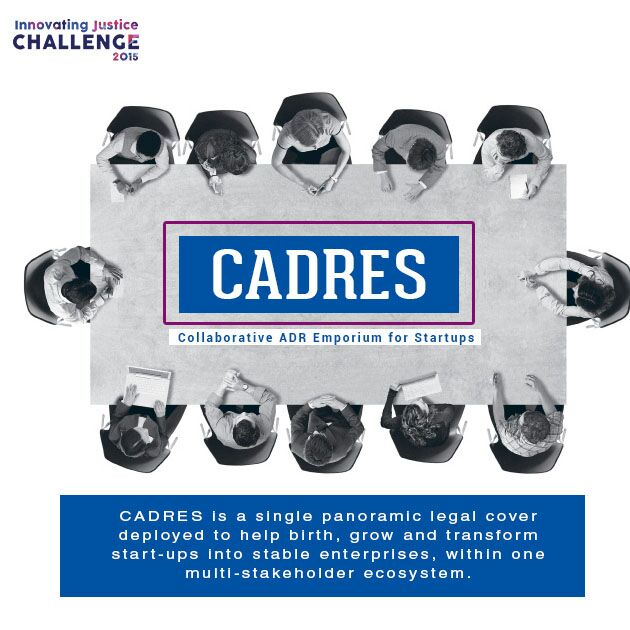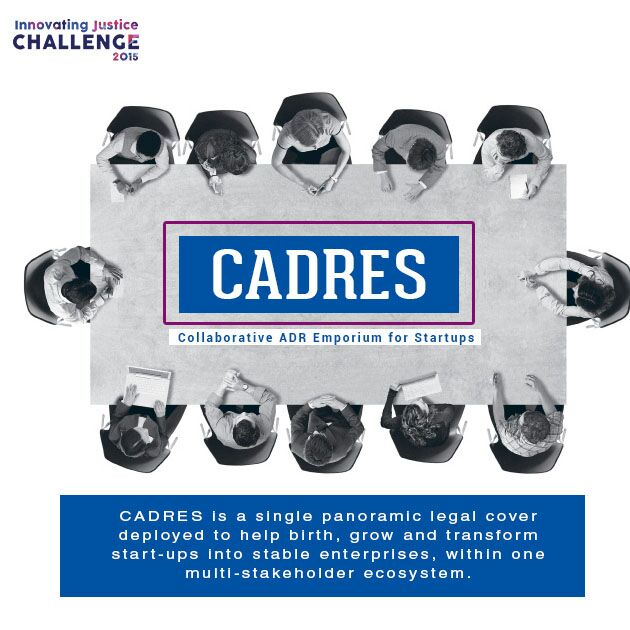 #CADRES is a collaborative emporium (marketplace) with built-in ADR systems to moderate the many relationships between SMEs and their Stakeholders.
Entrepreneurs at sign up simply plug into our Conduit (which has pre-signed arrangements with other SMEs, Investors, Regulators, Licensing Bodies, Banks, C.A.C., FIRS, Customs, Immigrations Services, and other professional service providers like Law, Accounting firms etc) and automatically connect with assigned/necessary institutions for it's agreed growth task: Incorporation, Compliance & Regulation, Licensing & Endorsements, Partnerships & Collaboration Contracts etc.)
All these relationships entrepreneurs usually have to form, maintain or even default all on their own, often in a harried, haphazard and cumbersome manner.
CADRES Unique Selling Points
1. CADRES is deployable on multiple platforms
    a. ONLINE via a web portal
    b. OFFLINE via existing (mostly under-utilized) institutions (Courts, Local Govt. Offices, Law firms etc.
2. CADRES engages and collaborates with EXISTING INSTITUTIONS and NOT segregate them.
    a. The Conduit consists of over 30 Institutions from various (Government, Private, International, Non-Governmental etc.) sectors.
    b. Real-time data from The Conduit is fed-back into institutions to create better processes and policies for SMEs and Stakeholders
    c. All small business disputes are QUICKLY resolved without the technicalities of the courts within the Conduit as the law provides
3. CADRES involves, revolves and resolves issues that affect the MOST IMPORTANT SECTOR of the economy: The INFORMAL SECTOR – which houses the real growth capacity but IS NOT ONLINE (yet)! (The average Nnamdi who has 3 shops in Aba, is not registered and has no email, Isaika, whose transport business is in its third generation, has grown into a fleet, but still absolutely informal, and the Nuru whose food distribution industry is almost nationwide now, yet has no more than a few mobiles, no email address.
NOW
We're in the last few days of the ONLINE CAMPAIGN
The campaign requires people to VOTE for this
You'll agree with me that CADRES is quite a departure from the usual and the ground zero of many great things including a (not so popular) culture of Collaborating, Forecasting, Bracing For and Resolving Disputes head-on, Government parleying with the Governed at the same table, Real-time data influenced improvement processes and policies etc.
WE NEED YOU TO INFLUENCE PEOPLE (even in this generation of microwave attention spans) to be able to UNDERSTAND THAT and to (collectively) VOTE FOR THEIR OWN LONG TERM FUTURE & PROSPERITY.
To vote, simply click on the link and on our page, look for the pink bar under the picture that says 'VOTE FOR THIS PROJECT'.https://innovatingjustice.com/en/#!/projects/i-cadre-innovators-collaboration-adr-emporium
BUT MORE IMPORTANTLY, to give each precious vote MORE POWER to actually get us there, please SHARE on every available network, group, channel in cyberspace.
Thank you so much and may GOD BLESS YOU!
'Mo Collaborations, Mo' Success
– 'Mo Olumide
P.S. If you've had a challenge opening the page on your phone, please change browsers or use your tablet or PC.