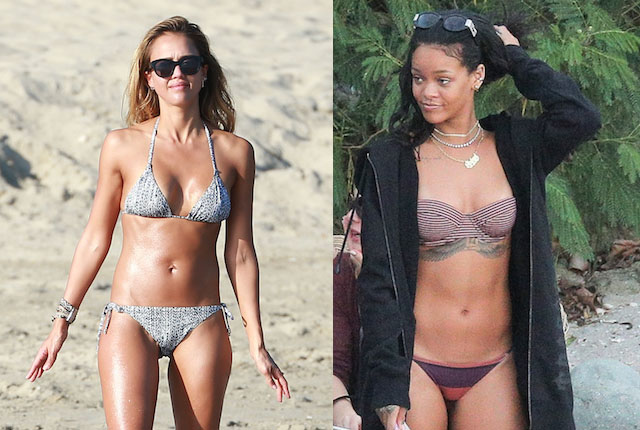 When you see celebrities in their bikinis on the beach or Instagram, most likely one of two thoughts enter your head: 1) she looks amazing or 2) I need to hit the gym ASAP. Regardless of what crosses your mind, we're pretty certain you love seeing a celebrity in bikini if not only for motivation to hit the gym.
More..
We pulled together 15 of the hottest celebrity bikini photos that you likely have never seen before!..
Rihanna
Photo: AKM-GSI
Bad gal RiRi was spotted looking amazing in her bikini in Saint Barts while celebrating the New Year.
Alessandra Ambrosio
Photo: AKM-GSI
Victoria's Secret model Alessandra Ambrosio looks hot even on a family beach day.
Rhea Dunham



Photo: AKM-GSI
We don't want to be inappropriate since she's a Mrs. but Mark Wahlberg's wife is pretty hot.
Pamela Anderson
This former "Baywatch" babe still has a banging body and proves it on her Hawaiian vacation.
Michelle Rodriguez
Photo: AKM-GSI
Regardless of whether this "Fast and Furious" star likes girls or boys more, we're pretty sure guys LOVE her.
Jessica Alba
Photo: AKM-GSI
Jessica Alba heats up the sand in Cabo with her sizzling beach body.
Salma Hayek
Photo: AKM-GSI
Now we know exactly how Salma Hayek snagged a billionaire. That body reveals all.
Kate Moss
Photo: AKM-GSI
Supermodel Kate Moss naturally looks amazing on the beach.
Megan Fox
Now we see why Megan doesn't like the Angelina Jolie references. In the flesh, she looks way hotter.
Casey Batchelo
Photo: AKM-GSI
British model and singer Casey Batchelo almost made us take a double take as she totally resembles Kim K in this photo. And you know that's a compliment.
Irina Shayk
Photo: AKM-GSI
Irina Shayk makes Mexico hotter in her bikini. What the heck is wrong with Cristiano Ronaldo??
Karrueche Tran
Photo: AKM-GSI
Karrueche Tran may not be as sexy as Brown's ex Rihanna but she still has a pretty nice bikini bod.
Lizzie Cundy
Former WAG Lizzie Cundy brings the heat to Bardados with her bodacious bod.
Camille Grammer
Photo: AKM-GSI
Reality star Camille Grammer has a pretty hot bod for a woman over 45.
Naomi Campbell
Photo: AKM-GSI
Brazilians likely couldn't keep their eyes off this supermodel body when Naomi hit the beach in their native country.
-styleblazer
CLICK HERE to follow us on Google+ to get updates on published posts & videos
TOP POSTS YESTERDAY