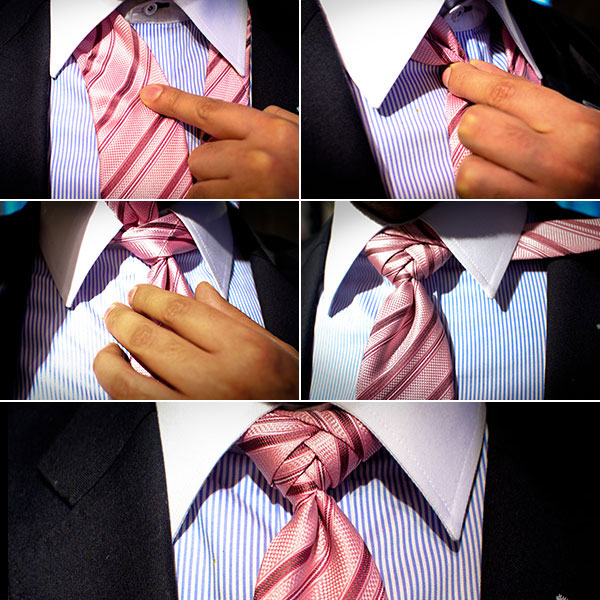 Here is a list of many different ways to tie a tie, for every and any occasion, many of which you probably never knew existed. We've gathered 30 of the best tie knots ever created by mankind to give you just the edge you need to look your best at all times.
More..
Each tie knot has been judged on four different factors: aesthetics, symmetry, difficulty, and knot size. You can make a statement with these knots any day of the week or simply use them to look elegant and stylish during those special events where you really need to stand out. Either way, you'll practically be a forefather of men's fashion no matter which style you choose.
1. THE ELDREDGE KNOT

There is no doubt that this knot is one of a kind. As opposed to the vast majority of tie knots, this one is produced by using the small end as the active end, creating a tapered fishtail braid-like effect. It's a very fancy knot that will leave a great impression on your boss.
2. THE TRINITY KNOT
This beautiful knot has a three-way symmetry and resembles the Celtic Triquetra. The pattern converges at a center point, producing a very eye-catching effect. It might seem a bit intimidating at first glance, but the moves are actually fairly simple.

3. THE VAN WIJK KNOT
An augmentation of the Prince Albert, adding a third turning of the active end. When tied correctly, this long and slender knot creates a striking and unmistakable layered cylindrical effect. A very cool knot that works best with light colors. It's best suited for narrow collared shirts and paired with a vest.

4. THE FISHBONE KNOT
This awesome work of tie artistry is shaped in the form of a fishbone, hence the name. It's a remarkable formal knot that is increasingly gaining respect. While somewhat challenging to tie, it's definitely worth the effort, because it never fails to make the ultimate impression.

5. THE ROSE KNOT
Looking to get in touch with your romantic side? Check out this amorous necktie knot crafted in the shape of a rose. It shares similarities with the Trinity Knot, but is tied with an extra loop. This knot is sure to be a hit on V-Day.

6. THE ELLIE KNOT
It's a simplified variant of the Eldredge Knot, but easier to tie and consumes less fabric, leaving a tail that allows it to be tightened or loosened like a normal windsor. It works best with semi-wide collar openings.

7. THE TRUELOVE KNOT
A sophisticated complex knot that is divided into four quadrants. This is a very difficult knot to tie that will take considerable practice. Consider a striped tie for a pinwheel effect. This knot isn't for little boys, it's for lady killers.

8. THE BOUTONNIERE KNOT
This knot is characterized by its long loops, making it good for wide collar openings. The moves are very similar to that of the Fishbone Knot, but it has a somewhat cleaner finish when tucked under the collar. Use it semi-formally.

9. THE KRASNY HOURGLASS KNOT
This is made up of the Four-in-Hand Knot with an additional knot tied using the small end right beneath the main knot, creating the hourglass look. It's impossible to adjust after being tied, so you need to get it right the first time. You'll achieve a great effect using striped ties.

10. THE MEROVINGIAN KNOT
Originally known as the Ediety Knot, if you're a big fan of The Matrix, you'll recognize this knot sported by the merovingian. This knot is very special. It looks like your tie is actually wearing a little miniature tie.

11. THE ATLANTIC KNOT
This is quite an unusual knot. It's a reversed version of the Pratt Knot, resulting in an inside-out knot that shows the intricate tie knot structure that's usually hidden on the back. It's recommended for festivities or informal social events.

12. THE CAPE KNOT
The Cape Knot is a fundamental improvement on the quick and easy Atlantic Knot, which has greatly improved its symmetry and aesthetic value. This loosened-up knot works best with mono-colored ties and never passes unnoticed.

13. THE CAPSULE KNOT
The Capsule Knot is very similar to the Atlantic Knot and the Cape Knot, but is slightly larger in size and more difficult to tie. This fun tie knot is meant to be worn informally and with semi-wide collar openings.

14. THE GRANTCHESTER KNOT
The Grantchester Knot is a large, thick, slightly asymmetrical tie knot. It's basically a larger version of the St. Andrew Knot, by an additional turning of the narrow end. The key to wearing this knot is to stick with silk or other lightweight materials, since wool or knits tend to look uncomfortably bulky.

15. THE LINWOOD TAURUS KNOT
Use it to make a statement. An extraordinary work of symmetrical art, this knot's bull-like appearance works well for casual occasions only. It's recommended for paisley or solid ties and wide collar shirts.

Head over to ShirtsMyWay for the complete list of 30 different ways to tie a tie and knot ratings.
-HuffingtonPost
CLICK HERE to follow us on Google+ to get updates on published posts & videos
TOP POSTS YESTERDAY