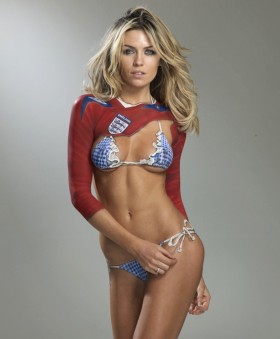 It is no doubt that Soccer, or Football (as most Europeans would call it) fever is everywhere at the moment, with the 2014 FIFA World Cup being held in the steamy hot country, Brazil. Talented Football players across the world enter the pitch to battle it out in the hopes of making their country proud. It is without a doubt, the dream of every Football player to participate in helping their team win the most prestigious trophy in football.
More..
It is often said that behind a great man, is an even greater woman supporting him throughout his career and it is no different with these pro athletes. In fact, in the soccer world, these woman are often referred to as WAGS (Wives and Girlfriends). Their luxury lifestyle promotes a perception that these ladies of the football players, are all beautiful but which of these WAGS are the hottest? We count down the list of the 10 hottest FIFA World Cups superstars' wives and girlfriends.
1) Lena Gercke & Sami Khedira
Lena Gercke is famous in her own right, as the winner of Germany's Next Top Model in 2006. Her modelling career has gone from catwalk to catwalk, appearing in many Glamour magazines, including Cosmopolitan.
Lena was previously involved with boyband member, Jay Khan up until 2009 and they lived in Berlin. These days Lena can be found living in both Berlin and New York. In 2011, she started dating Real Madrid footballer, Sami Khedira. Sami joins his Germany team hoping for World Cup Success.
2) Natalia Velez rumored girlfriend of Radamel Falcao
Born in Ecuador, this Latin beauty moved to Colombia as a baby with her parents. Natalia Velez is best known for her work with GoDaddy, but she has been modelling from an early age.
It was rumored that Natalia and Radamel Falcao were dating, however, Falcao is married to Lorelei Taron. Both deny that they dated and state that they don't actually know each other! Falcao is reported to be among one of the top strikers in the world. He plays for AS Monaco and is representing the Colombian Team in the 2014 World Cup.
3) Sara Carbonero & Iker Casillas
This Spanish TV presenter really made the headlines in the 2010 World Cup, when she was accused of distracting her Spanish boyfriend with her beauty during a match. His team went onto lose. Sara Carbonero interviewed her boyfriend, Iker, after the match, which brought her journalistic professionalism into question. She then became one of the most photographed people in the World Cup and was voted "The Sexiest Reporter in the World"
Iker Casillas is the goalkeeper for the Spanish Team and Real Madrid. The couple have recently become parents to baby, Martin.
4) Bruna Marquezine & Neymar da Silva Santos Junior
Bruna Marquezine is a Brazilian soap opera star. She started acting at a very young age and appeared in many different TV shows and short-films.
Neymar is a Brazilian footballer who plays for FC Barcelona. When he was just 19 years old, he won the 2011 South American Footballer of the Year and went on to win it again in 2012. Bruna dated Neymar up until earlier this year, when they decided to split, but it has been reported that they were seen together and kissing during Neymar's training for the 2014 World Cup.
5) Irina Shayk & Cristiano Ronaldo
Irina Shayk is arguably one of the most famous of the World Cup WAGS. She is a Russian model whose career started after being spotted in a High School pageant. She has been featured on the cover of several magazines, including Vogue and has started on an acting career with a role starring in the upcoming film,Hercules.
Cristiano Ronaldo is a household name when it comes to football. His reputation as one of the greatest players seemingly grows with every match. He plays for Portugal during the World Cup and represents Real Madrid's League Club. Cristiano and Irina started dating in 2010, even though she admits that she is no fan of football.
6) Antonella Roccuzzo & Lionel Messi
Antonella and Lionel Messi are both native to Rosario, Argentina and were no strangers to each other before they got together. Antonella is actually Messi's best friend's cousin and they met each other when they were 5. They grew up together with their families being friends.
Lionel left Rosario to play for Barcelona and when he came home on holiday in 2008, the couple fell in love. They got engaged and have since had a baby boy called Thiago. Lionel plays forward and is Captain for Argentina and forward for Spanish club FC Barcelona. Lionel is the first player in history to win 4 FIFA European Player of the Year Award, consecutively.
7) Shakira & Gerard Pique
This beauty does not necessarily need an introduction, but we will provide a short one anyway. Shakira is of course, famous for being a singer and belly-dancing, however, she is also a model, dancer and choreographer. She did not find instant fame though; in the early 1990's she failed to achieve any following of her first 2 albums. It was when she released her 3rd album that her popularity began to grow.
Shakira met Gerald, whilst recording Waka Waka during the last World Cup season. Gerard is a Spanish center-back football player for FC Barcelona. He spent 4 years playing for Manchester United before returning to Spain. The couple have a son, Milan and do not have any reported plans to get married at this time.
8) Alex Gerrard & Steven Gerrard
Alex Gerrard is an English model and fashion columnist for the Daily Mirror newspaper. She has also launched her own fragrance, simply called 'Alex' which was one of the top selling perfumes in 2007. Although, she didn't start out as a model; Alex was formerly a nail technician
The couple have been together since 2002, however, they were both dating different people at the start of the year and at some point they swapped, Alex and Steven got together and their former other halves got together. It is still unclear as to how this swap was initiated. Alex and Steven married in 2007 and have 3 daughters.
Steven is a Midfielder and Captain of the England team and a Midfielder for Liverpool FC.  His wife, Alex is no stranger to the football world and is described as a leading 'WAG' of the England football team.
9) Bethany Dempsey & Clint Dempsey
This WAG is certainly not your average hottie! Bethany is not only remarkably beautiful, but also remarkably bright. She has obtained her Master's degree and is an educational psychologist. The couple met in University and got married quite quickly, after just a year of dating. They have 2 daughters and a son.
Clint is the Captain of the USA Football team and made successful headlines by scoring the fifth fastest goal in World Cup history, whilst playing against Ghana. Previously he played for Tottenham Hotspur and Fulham in England before returning to his home country to play with the Seattle Sounders.
10) Coleen Rooney & Wayne Rooney
This popular couple has been together since the mere age of 16 years old. They have been married for over 6 years and have 2 children together. Coleen is popular with the international media, as she is known to be an extremely friendly and lovable lady. She could be considered one of the founder members of the WAG's club and is well liked among the other lady's in this unofficial 'club'.
Although, Coleen does not sit behind her successful soccer star; she is a TV presenter, columnist and has her own clothing line. She is a successful businesswoman in her own right. Wayne Rooney plays forward for England and Manchester United is his home club.
CLICK HERE to follow us on Google+ so as to get updates on published posts & videos.
TOP POSTS YESTERDAY